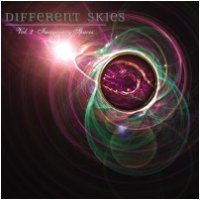 Earth Mantra #earman029

Format: 320Kbps MP3
Number of tracks: 5
Genres: Electronic

Direct URL: earthmantra.com/imaginaryspaces
Release Mirror Site: Click Here
Visit This Artist: Click Here
Contact This Artist: Click Here

Download: #1 (94 MB) More Options Help

The second set of 'All Star Jams' for the week of Different Skies 2007 was captured in the late evening of Thursday, October 19, 2007. The twenty musicians of Different Skies were euphoric after an extremely successful set of rehearsals that day, and a powerful set of jams the previous night. More to the point, as is often seen in the latter half of the week at Different Skies, the musicians had begun to listen more and play less, to fine-tune their collaborative skills, and to think and move and play as one unit.

As a result, the Thursday night jam was shorter but far more productive than the previous night. The musicians played for about 45 minutes for a small audience of Arcosanti residents and for an Internet audience around the world on StillStream.com and on Second Life (thanks to Bibi Book for the SL rebroadcast); in doing so, they created a collage of five distinct movements which are presented here almost in their entirety.

The quality of these performances is entirely due to the fine musicians who see fit to drag their gear into the Arizona high desert for seven days of grueling tech work, hard rehearsals, and nerve-wracking performances ... all melded inseparably with a level of camaraderie and friendship that cannot be described to anyone who has not come and taken part.

This release - along with its companion release for Wednesday night's jam - offers a brief and piquant taste of the atmosphere of our evening jams, a momentary immersion into the musical wonderland that is Different Skies. We all hope you enjoy it.
All Earth Mantra releases are available under the Creative Commons Attribution - NonCommercial - NoDerivs 3.0 Unported license. For commercial use, please contact us.
Comments