Stephen Philips - Neptune Is A Gas Giant (2008)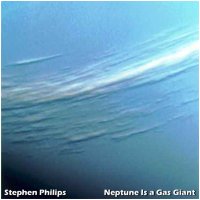 Earth Mantra #earman031

Format: 320Kbps MP3
Number of tracks: 1
Genres: Ambient, Electronic, Drone

Direct URL: earthmantra.com/neptuneisagasgiant
Release Mirror Site: Click Here
Visit This Artist: Click Here
Contact This Artist: Click Here

Download: #1 (145 MB) More Options Help


Stephen Philips has long been reknowned in the ambient community, both for his deep evocative ambient music, as well as for being the brains behind the marvelous Dark Duck Records music label, which hosts a huge collection of ambient music available both for sale and for free download (via the Drone Download Project). If you don't know much about Dark Duck, you really should visit this link:



On this evening, Stephen blew the audience away with a subtle and seductive performance that had them talking for hours afterwards. Earth Mantra has long been a fan of Stephen's music, and we have heard him perform live many times, but even we were left dazzled by Stephen's latest handiwork. Truly this is one of the best live performances in recent memory, and we are very happy to be able to bring it to you as an Earth Mantra release. Give it a listen and see if you agree.

All Earth Mantra releases are available under the Creative Commons Attribution - NonCommercial - NoDerivs 3.0 Unported license. For commercial use, please contact us.
Comments
October 08, 2011 - Joe LP
Straightforward yet beautiful and not cliche, this improvised piece works well as a "floating" peaceful aural background. Excellent for meditation or relaxation - or perhaps for that next big trip to inner space.