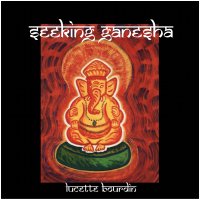 Earth Mantra #earman034

Format: 256Kbps MP3
Number of tracks: 5
Genres: Ambient, Electronic, World Fusion

Direct URL: earthmantra.com/seekingganesha
Release Mirror Site: Click Here
Visit This Artist: Click Here
Contact This Artist: Click Here

Download: #1 (140 MB) More Options Help

"Lord Ganesha is Nada Brahman, Lord of music. He is the repository of knowledge and a mine of virtues from whom emanates illimitable erudition, and cosmic music and rhythm."

Thus is the artist's description of this superb release, our first release by Lucette Bourdin, and one of what we hope will be many in the future.

Entitled Seeking Ganesha, this is a tremendous collection of exotic ambient pieces, all performed by visual and musical artist Lucette Bourdin, and all simply wonderful pieces of ambient artistry. The music is at times deeply spiritual in nature and yet is also very open and inviting for meditation, quiet contemplation, or straight forward casual listening.

All in all, this is one of Lucette's best releases, and we at Earth Mantra are very excited to bring this to you. Enjoy!
All Earth Mantra releases are available under the Creative Commons Attribution - NonCommercial - NoDerivs 3.0 Unported license. For commercial use, please contact us.
Comments
June 18, 2011 - Acid Ghost
Absolutely beautiful music to keep in touch with our inner self,vote 10/10 for me
May 22, 2010 - ahmedris
merci le down earth mantra & pour l'artiste favorable bourdin lucette merci & bon developement
May 02, 2009 - Tony Thomas
I love this album. I love the way the ambience is fused with field recordings of Indian life. Truly stunning