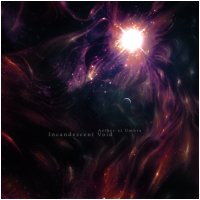 Earth Mantra #earman044

Format: 256Kbps MP3
Number of tracks: 9
Genres: Ambient, Electronic, Drone, Abstract, Dark Ambient, Experimental

Direct URL: earthmantra.com/aetheretumbra
Release Mirror Site: Click Here
Visit This Artist: Click Here
Contact This Artist: Click Here

Download: #1 (116 MB) More Options Help

We are pleased to welcome Incandescent Void, aka Kyle Pattrick, to the family of Earth Mantra artists, with this evocative and remarkably original release called Aether et Umbra.

With nearly an hour of what we can only call 'dark space music', this is an album for the listener who prefers their ambient music challenging, adventurous, and chock full of textural dark ambient goodness.

Adventurous, we say? Indeed, this is not your mama's ambient music. No musical wallpaper here, folks. This is an album that demands the listener sit up and take notice of what is going on, and participate fully in the experience just to keep up. It even occasionally veers into noise territory. But never fear, the music is highly approachable and exceptionally rewarding for those willing to set aside any preconceptions and accept the album on its own terms.

As they say, in space no one can hear you scream, but make no mistake: this is no horror flick soundtrack. It is a cohesive and intelligently designed collection of somewhat eerie tone poems which remind us that if there is indeed a cosmic consciousness, then perhaps we ought to consider the possibility it might not be too pleased with us or our little planet.

It is our opinion that Incandescent Void has produced one of 2008's most fulfilling and original ambient albums. We hope to hear much more from this great artist in the future.
All Earth Mantra releases are available under the Creative Commons Attribution - NonCommercial - NoDerivs 3.0 Unported license. For commercial use, please contact us.
Comments
December 30, 2010 - Xegon
This is so scary that I'm speechless with fear. I have been sitting here traumatized for 30 hours since listening to this just staring at the wall and I can only just now bring myself to type and get out of my chair. I'm going to have psychological problems for the rest of my life!
February 14, 2010 - clear sky precipitation
Yeah, this is good. Not the polished stuff but not too distracting either. Perfect balance to my taste.