Kit Watkins - Music For The End (2008)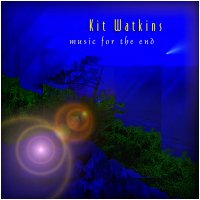 Earth Mantra #earman062

Format: 256Kbps MP3
Number of tracks: 1
Genres: Ambient, Electronic

Direct URL: earthmantra.com/musicfortheend
Release Mirror Site: Click Here
Visit This Artist: Click Here
Contact This Artist: Click Here

Download: #1 (118 MB) More Options Help

Every now and then it is important to take a step back and look at things in some perspective, to look at the world deeply and appreciate how things really are. In that spirit, we at Earth Mantra are going to take a moment and do exactly that. What are we blathering on about? Well, to put it simply, we are completely in awe of this release we now have the pleasure to bring to you. And, so, let's put it into some perspective.

Firstly, this is one of the most profound ambient recordings we have ever heard, by anyone, at any time, any where. This is majestic, uplifting, mind altering, exquisite, fascinating contemplative music that stands tall amongst the greatest ambient recordings ever made. Secondly, it is by one of the top ambient artists of all time, one of the true grand masters of the genre, who has been making deep thoughtful ambient music as long as the 'ambient' moniker has existed, and can truthfully claim to have altered the course of the genre itself. Finally, it is our favorite release by this artist, which is a truly remarkable thing to say given our extreme admiration for all of this man's other work, both as a solo artist and in collaboration.

And this masterwork, this album entitled Music For The End by none other than legendary artist Kit Watkins, is being brought to you via our own humble little netlabel, Earth Mantra.

This is what we mean by perspective, folks. We don't know how we came to be so fortunate as to be able to release an album of this magnitude and stature, but here we are doing exactly that. It is an honor of the highest order to be able to release this immaculate album on Earth Mantra, and we could not be more grateful to Kit that he has chosen to make so much of his extensive catalog of music available to the world via Creative Commons. Thank you Kit, for your music, and for your generosity.
All Earth Mantra releases are available under the Creative Commons Attribution - NonCommercial - NoDerivs 3.0 Unported license. For commercial use, please contact us.
Comments
October 31, 2011 - Eduardo Guerrero
Thank you very much for this great music.
April 16, 2009 - asd
The quality and warmth of this album is stunning. The fact that it's free is divine. Thanks for sharing such beauty with the electronic community, Mr. Watkins.
February 25, 2009 - Darrell Burgan
This recording was actually made during a live set Kit did on Star's End radio after his legendary performance at The Gathering. Apparently Chuck van Zyl had Kit come back to the studio after his performance and do yet another set for his radio audience. And I'm very glad he did. :-)
February 02, 2009 - travis, hiddenplace music
absolutely breathtaking,. ive loved this album ever since it was released on mp3.com 'back in the day' great to hear it unedited and in better sound quality. i believe this recording was performed live as part of The Gatherings performance. can anyone confirm this?