Stephen Philips - 31 O'Clock, 30 Won a Clock [Buddha 1 Mix 1] (2008)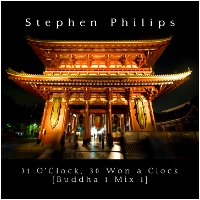 Earth Mantra #earman066

Format: 320Kbps MP3
Number of tracks: 1
Genres: Ambient, Electronic, Drone, Abstract

Direct URL: earthmantra.com/31oclock
Release Mirror Site: Click Here
Visit This Artist: Click Here
Contact This Artist: Click Here

Download: #1 (148 MB) More Options Help

Stephen Philips is widely known for his patient and unorthodox approach to ambient music, which yields some of the most uniquely beautiful and evocative ambient music that can be found. With his latest Earth Mantra release, titled 31 O'Clock, 30 Won a Clock [Buddha 1 Mix 1], he takes us on yet another distinctive journey, this time through the worlds of the FM3 Buddha Machine.

For those not familiar, the Buddha Machine is a divine little portable device whose sole purpose is to emit constantly changing ambient music. Here's the URL for the main site:

http://www.fm3buddhamachine.com

As lovers of ambient music, we think this product is one of the fundamentally coolest things we've seen in a LONG time (and they make great holiday gifts). But even cooler, FM3 has decided to release the sounds of the device under a Creative Commons license, and in fact actively encourages people to reuse the sounds and remix them into new music.

In this release, Stephen takes the listener on a journey through the sounds of the Buddha Machine, but firmly stamping his own unique ambient world view onto the music. The result is a magnificent longform piece that is perfectly suited for casual background listening, for nighttime sleep listening, or really for any setting where lovely, unobtrusive ambient music fits. We love it.
All Earth Mantra releases are available under the Creative Commons Attribution - NonCommercial - NoDerivs 3.0 Unported license. For commercial use, please contact us.
Comments