Mystahr - Into The World Of (2009)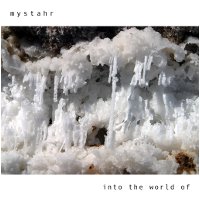 Earth Mantra #earman071

Format: FLAC and MP3
Number of tracks: 1
Genres: Ambient, Electronic, Abstract, Experimental, Modularism

Direct URL: earthmantra.com/intotheworldof
Release Mirror Site: Click Here
Visit This Artist: Click Here
Contact This Artist: Click Here

Download: #1 (478 MB) More Options Help

Into The World Of may be experimental/ambient noise artist Mystahr's first release on Earth Mantra, but it is also another brilliant link in a long chain of superb albums by this Netherlands-based sound alchemist.

Typically, Mystahr's work tends towards the noisy and harder-edged realms of experimentalism, but with this release the noise softly subsides to make room for a deeper flow, a more subtle and elegant immersion into an exotic sound world. Elements and fragments merge and separate like slowly moving flows of molten lava, revealing the chaotic nature of continual flux, but also providing a serene and beautiful view of the same. Heady stuff, indeed, music that will speak to lovers of pure ambience and lovers of experimentalism alike.

A single longform piece, this electronic music was improvised live and in one take on StillStream.com. It harbors a plethora of sound sources, from pulsing modulars to distressed tape recordings, from growling analog synths to vibrating spring reverbs and Buddha machines phasing to ring-modulated spheres.

With Into The World Of, Mystahr delivers to us an unforgettable journey through the obscure, but we would expect no less from him. It is nothing less than a trademark of the work of this ground breaking artist. Welcome to Earth Mantra, Mystahr.
Special note: the download for this recording includes both MP3 and FLAC formats. Unlike MP3, which throws away some of the audio data in order to achieve high compression, FLAC is a lossless format that is identical in quality to the original audio signal. For more information about FLAC, please visit the FLAC home page.
All Earth Mantra releases are available under the Creative Commons Attribution - NonCommercial - NoDerivs 3.0 Unported license. For commercial use, please contact us.
Comments
February 21, 2009 - Marc Weidenbaum (www.disquiet.com)
Read the full review here: http://disquiet.com/?p=2578