Spheruleus - The Disguised Familiar (2009)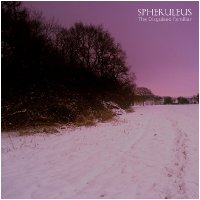 Earth Mantra #earman076

Format: 320Kbps MP3
Number of tracks: 4
Genres: Ambient, Electronic, Drone, Field Recordings

Direct URL: earthmantra.com/thedisguisedfamiliar
Release Mirror Site: Click Here
Visit This Artist: Click Here
Contact This Artist: Click Here

Download: #1 (123 MB) More Options Help

Earth Mantra is proud to welcome Spheruleus to our roster of artists, with a delightful and moving release called The Disguised Familiar.

Spheruleus, aka Harry Towell, is a British artist who records music under a variety of project names, probably the best known being Audio Gourmet. With this release, he brings us a lovely and peaceful collection of still life portraits captured on a singular winter's day when much of England was blanketed with snow by a particularly heavy winter storm. Spheruleus combines field recordings captured on that day with beautifully conceived ambient drone pieces, creating a sublime collection of some of the most restful pure ambient music we've heard in a while.

On this release, Stuart Towell contributes some delicious ambient guitar that really helps cement the floating and placid feel of the tracks. Interestingly, we are told that ordinarily Stuart doesn't do ambient music but decided to give it a go on this exceptional day. We would encourage him to consider doing ambient more often, because his contributions to the pieces are simply excellent.

Overall this is a refreshing album, a perfect set of tracks to enjoy on a winter's morning with a steaming cup of tea and a nice warm blanket. We are very happy to be bringing our audience the music of Spheruleus, and hope this is the first of many releases to come on Earth Mantra.
All Earth Mantra releases are available under the Creative Commons Attribution - NonCommercial - NoDerivs 3.0 Unported license. For commercial use, please contact us.
Comments
March 18, 2009 - The Nature of Light
Do not miss listening to this! Only on the first track but wow, seriously beautiful work my friend. I really like it! This is very soothing. You did a great job on this. I recommend anyone reading this to download this album!