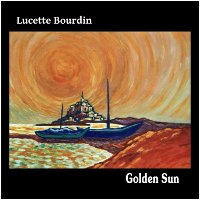 Earth Mantra #earman083

Format: 256Kbps MP3
Number of tracks: 14
Genres: Ambient, Electronic, Drone, Space Music

Direct URL: earthmantra.com/goldensun
Release Mirror Site: Click Here
Visit This Artist: Click Here
Contact This Artist: Click Here

Download: #1 (277 MB) More Options Help

Some artists seem to have no limits to their talent whatsoever. When Lucette Bourdin released her magnum opus Silver Moon in February of 2009, we at Earth Mantra were so blown away by it that we could not conceive of how she could possibly top herself. Surely, we thought, this is the pinnacle of Lucette Bourdin's music.

Then just a few months later, Lucette asked us to release the sequel to Silver Moon, aptly entitled Golden Sun. A short time after listening to it, we picked ourselves back up off the floor.

Folks, we don't know how she did it, but she has topped herself again. Golden Sun is a two-disc cornucopia of some of the driftiest, loveliest, and most elegant ambient music we have ever heard. Everything there is to love about light ambient music can be heard in this jaw-dropping release, from sweet and subtle ambient washes to clever electronic pulsations, from mesmerizing shamanic sound sculptures to soaring melodic lines. An amazing breadth of music, performed beautifully, and captured in an immaculate recording. If that weren't enough, Lucette's beautiful artwork also adorns this release. Is there anything she cannot do?

We at Earth Mantra listen to a lot of ambient music, and are familiar with the works of thousands of artists at all levels of success and accomplishment. You'll have to trust us when we say there are very few artists, today or at any time, who have had both the sheer ambient chops and the sublime musical taste of Lucette Bourdin. She is clearly one of the best ambient artists active today, and we are ecstatic that she continues to release her breathtaking music through Earth Mantra.

In the notes for Silver Moon, we said that it was "sure to be one of the top releases of 2009". We'll go one better with Golden Sun and say this is quite possibly THE top release of 2009. Nothing less than music for the ages.
All Earth Mantra releases are available under the Creative Commons Attribution - NonCommercial - NoDerivs 3.0 Unported license. For commercial use, please contact us.
Comments
September 07, 2011 - Mark Blood
I have only just discovered Lucette Bourdin and this album is an absolute gem. Both parts comprise professional ambient drone of a very high calibre. Deep, dreamy evocative ambience. Awesome 10/10
November 10, 2009 - Darrell Burgan
Lucette has many releases also available commercially from Dark Duck Records at www.darkduck.net, including Rising Fog. She also makes several albums available freely at her home page at www.lbourdin.com. Hope this helps ...
November 10, 2009 - Yorgos Ntoulias
thanks for uploading this beautiful artist :) BIG THANKS! I am searching for rising fog album. do you know if i can find it anywhere? thanks!
September 04, 2009 - Harry Towell (Spheruleus)
Straight at the top of the list is this truly excellent double disc album released on Earth Mantra by Lucette Bourdin. I enjoyed her previous work 'Silver Moon' earlier this year on the same label, but this ambient offering will completely blow any fans of the genre away. It's masterfully produced ambient music, given away for free; an absolute must is this. Earth Mantra really have been consistent in providing some of the very best netlabel ambient music in the world - it is strongly advised that any fan of the creative commons scene or ambient music in general keep close tabs on this label and of course, on the work of Lucette Bourdin...
July 20, 2009 - MaikUniversum
It is wonderful album. One of the best on EarthMantra and one of the best I have ever heard.
July 06, 2009 - Altus
Thank you Lucette for this beautiful music. This is inspiring!