Alex Tiuniaev - Ethereal Winter Ambience (2009)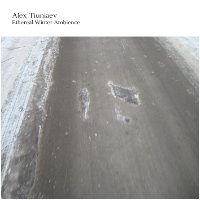 Earth Mantra #earman085

Format: 320Kbps MP3
Number of tracks: 2
Genres: Ambient, Electronic, Drone

Direct URL: earthmantra.com/etherealwinterambience
Release Mirror Site: Click Here
Visit This Artist: Click Here
Contact This Artist: Click Here

Download: #1 (98 MB) More Options Help

Russian prodigy Alex Tiuniaev returns to Earth Mantra with a collection of chilled but heartwarming ambient pieces entitled Ethereal Winter Ambience.

Originally composed and recorded in 2006, Alex at first intended this music to be a "winter soundtrack, minimal and cold, but at the same time emotionally compelling and with a melancholic touch". Despite his intent, for all the cold and icy sounds that are indeed present, the music is uplifting and somehow consoling to the spirit, quite the opposite of his original goal.

In composing this work, Alex was inspired by the work of Sigur Ros and their () album, as well as Cliff Martinez's score to Soderberg's Solaris - and, of course, by Eno's 1970's ambient masterworks. The result is a quiet twilight musical journey through a winter's forest, with sights and sounds fading in and out as we pass by, a journey whose ultimate destination we can only guess at.

The album is divided into two distinct parts and features hypnotic ambient music with subtle melodic lines running through the dense electronic textures. The first part features bell-like sounds and strings and ends with a joyful musical memory of a folk dance - the blurred images of a summer long gone. The second part is more melodic and features subtle piano passages and Gregorian chants.

Another magnificent album by Alex Tiuniaev, who is consistently releasing some of the most interesting and novel ambient music around. As always, we are excited to be able to bring his music to our audience and look forward to much more from him in the future.
All Earth Mantra releases are available under the Creative Commons Attribution - NonCommercial - NoDerivs 3.0 Unported license. For commercial use, please contact us.
Comments
July 25, 2011 - Christian Doil
You can feel the cold wind. The structure of the album is like a symphony with different parts arranged like an one-shot-film.
December 24, 2009 - Wanderlust
Wow, this album indeed embraces its listener from the very first minute and continues to amaze. Wonderful winter music.
August 06, 2009 - MaikUniversum
Wow. Brilliant work. I was fascinated from the first minute of his album. Really nice melodic ambience. The piano part at the end of second track created very tender mood.