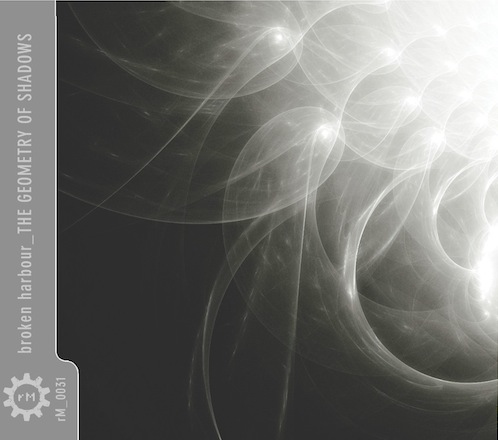 We decided that it would be a neat idea for artists to interview artists about their new albums. All of us at Relaxed Machinery release music, we all respect each other, we don't all know each other well – some do, some don't.  What brings us together is the love of the music.  In fact, I think it was Blake that first suggested this – and I thought it would be fun to get to know Blake a little better.  What follows is a conversation from late August 2012 via email.
John Koch-Northrup
Blake,
Let's jump right into your new album "The Geometry of Shadows". What inspired this album title? How long have you been working on it?  And would you like to talk a bit about your working methods or process?
John
Hi John,
I started work on the album immediately after I finished recording 'Gramophone Transmissions' in the fall of 2009. I had a full albums worth of material all about space communications, it was a long form piece entitled 'Ansible' and I'd recorded it over a few months. At the time I felt is wasn't quite up to scratch, then I took a break from music a few months after that and shelved it.  After I decided to finally release Gramophone Transmissions last year, I dusted off the old material and found alot to like about it. In December last year I started re-working 'Ansible', and by the time I was finished in early August, I had actually taken out everything from the original album and created something all new around it.
I actually stole the album title from a cult sci-fi show partly as an homage, and partly because it really fit the albums new sound. 'Ansible' didn't really work anymore as my inspiration had shifted from faster-than-light space communications to a more philosophical idea about the interplay of light and darkness, physically, metaphorically, and spiritually.  The spirit of the original recording is still there though, so there are bits where I get all 'spacey' on the listener.
As far as the process goes, there's actually only a few synth patches used across the 5 songs. I have a really large 88-key midi controller I use to play soft-synths with, and I found it amazing how different a single patch or sample can sound across all those octaves. Several of the songs all use the same 4 or 5 sound layers but played on wildly different parts of the keyboard.  They were also mixed and processed in such a way to make them sound dramatically different.
Plunking around on a keyboard and recording the results is actually quite different than the process on previous albums, which were much more about sample-manipulation as on 'Gramophone Transmissions'.
-Blake
Blake,
I've done the same thing – where a track I'd recorded didn't quite feel right. I'd shelved it for a while – and then came back and took the idea and went in a new direction with it, but almost abandoning the original piece.  I'm a big believer in following where the music takes me – sketching out a vague road map beforehand of melodies or soundscapes or chord progressions – and then going off course as needed, turning off my brain, and letting my instincts take over.
"'Ansible' didn't really work anymore as my inspiration had shifted from faster-than-light space communications to a more philosophical idea about the interplay of light and darkness, physically, metaphorically, and spiritually."
Tell me more about your idea behind the album.  Did the idea come first?  The music first?  Why *this* idea. What speaks to you about the interplay of light and darkness in its various forms?
-John
It all came at the same time, it was something on my mind that I was thinking about at the time. I find it interesting how humanity can be capable of such incredibly bright ideas (space travel, communications, art, culture) but it always seems tainted by darkness (space weapons, constant surveillance, violence over differences). Space, the universe itself, is the most extreme polar opposite thing of all, from the heat and intense luminosity of stars, to the dark, cold extremes of what lies between galaxies.
The flow of the album came pretty naturally, about 2/3rds of the way through writing, I had 2 lighter songs, and 2 darker ones, I ended up writing a song that slots in the middle that sort of ties the two halves together. It wasn't really intentional, it just came out that way. My previous album had the same quirk too, so perhaps it's a reflection of my personality. I tend to like all kinds of music extremes, ambient and drone music is an extreme, it's generally minimal and quiet, take Stars of The Lid for example, they write some of the most bare bones, minimal and gorgeous music. But I also love really complicated and technical metal music as well, like Opeth. That tends to take people by surprise, as they are incredibly opposite in sound. My music is a reflection of me, and my experiences and interests.
-Blake
Very nicely said. Most artists I know that are really into music – are into many kinds of music. So liking technical, complicated metal doesn't surprise me at all. I think it's natural that artists explore other areas of music and creativity.
How'd you get into music? When did you start? How old? What instruments? Were you a "band geek" in school? Play in any garages / bar / club bands?
-John
I was a teenager in the 90's. The 90's a really great decade to get into music, there was so much great stuff flying around, especially in rock. I've outgrown some of it now, but when I was 13 or 14, I was hearing stuff like Soundgarden, Bush, Our Lady Peace, The Tea Party, Metallica, and thinking `I could do that' so I bought some guitars and took guitar classes through my high school. I've been playing guitar ever since. (I'm actually pretty good if I say so myself!) Since then my musical tastes have broadened quite a bit, but I still like to listen to that stuff every once in a while. It's fun.
It wasn't until 2008 when I bought a midi board that I'd ever plunked around on a keyed instrument. So I'm learning quite a bit, I know where all the notes are and stuff, but don't ask me to play a piano solo or anything! I'm years away from anything like that.
I've never actually played in a band, I've tried to get a few things going in the past, and I have a pretty much dead side project with a drummer friend where we did metal/industrial stuff. It was super-heavy, and a lot of fun, but things came up and we never finished it. One day I'd like to revisit it and get it out on Bandcamp or something. Broken Harbour is my current priority right now.
I would love to actually just play guitar and sing in a cover band, there'd be a real lack of pressure in just performing other people's songs and that kind of appeals to me. Brain out – just rawk!
-Blake
I gigged out for years when I was younger – yes there's fun and excitement – lots of great things with playing… and then the dark side of late nights, long practices, and inflated egos.  Hahahaha.  😉
Silly question – if you're a guitar player – are you planning to incorporate guitar into your Broken Harbour work?   If no… why not???
Let's talk about gear… what do you use, hardware, software, effects. Do you have favorite "go to" instruments or processes?
-John
There's guitar all over the first album, most of the elements in Beauty in Desolation Pt.1 are guitar, and Pt.2 is ALL heavily processed guitar, actually. I have a few outtake tracks that didn't make the album that had a lot of guitar as well. I'd like to farther, I just bought Steve Roach's `Dust to Dust' album, so maybe that'll provide more inspiration. Right now I have major tendonitis in my picking hand/arm, so I'm taking a break from stringed instruments for a bit.
I use Sonar 8 as my DAW, and its juuuust unstable enough to be annoying. Many a perfect take has been ruined due to a crash! For `The Geometry of Shadows' I used a few NI soft synths and Omnisphere mostly. Oddly for an ambient album, it was all recorded `dry', I didn't use any Reverb or after effects like delay, just some hefty EQ for the most part, a little compression when needed. It gives it a unique sound, like `Ambient Grunge' (ha ha), often in this genre everything is buried in 8 layers of delay and reverb, and sounds really produced, which is great, I love that sound and I'll probably do that on future albums, but I wanted to see what it could sound like without it.
I don't use any outboard effects or analogue synths or anything, it's all `in the box' as they say. It's mainly a simplicity and cost effectiveness measure. Having said that, I might make a switch to Apple Logic and a new iMac as my current system is starting to get a little flaky and will need to be replaced in the next year.
-Blake
I understand and appreciate the tendonitis issues. One of the main reasons I rotate what I play is due to weak hands and wrists – I played piano a lot when I was younger, but switched to playing bass. Rule #1 from my neurologist was "if it hurts, don't do it"… ha! Such simple advice. So I try not to overdo it and think about ergonomics more.
I hate computer crashes… I had too many and shifted over to mac / logic a few years back.  I still haven't really recorded enough since the switch to feel comfortable with it – but I'm getting there.
An ambient album without heaping piles of multi-layered reverb?  Heresy! Since at this point I've heard the version before it went to Peter James for a little of his mastering magic… I can say that your approach works for this album and that was a good goal. I can't wait to hear the final version shortly.
Before we turn this into a sprawling multi-page interview…  let's wind this down with some non-music bits and pieces…
Married?

Kids?

Pets?

Favorite book?

Favorite movie/tv show?

When you were a kid you wanted to be a _______.
Thanks, Blake, for joining the label – I'm very happy to have you releasing with us!  Do you have anything else you want people to know about your new album or about you?
-John
I'm very happy to be here John, I just want to thank everyone involved, this album wouldn't have seen the light of day had it not been for you, Geoff Small, Peter James, Steve Brand and various friends who listened to each of the squillion revisions of the album.  Most of all, thanks to the many people who've supported Broken Harbour in the past.
Married? – Yup
Kids? – No, I'm really bad at caring for living things
Pets? – See above, I have fake plants because they're the only ones I won't kill
Favorite book? – (Just one?) 'The Gone Away World' by Nick Harkaway, 'The Hitchhikers Guide to the Galaxy', '1984', anything written by Jeremy Clarkson
Favorite movie/tv show? (Just one?) 2001: A Space Odyssey, Babylon 5, Alien, Blade Runner, the first 15 minutes of 'Prometheus', Top Gear.  Way too many to list to be honest…
When you were a kid you wanted to be a _______. – Astronaut, Batman, James Hetfield, Optimus Prime and ruler of my own banana republic.  (Yes all at the same time.)
Blake – thank you so much! Good luck with "The Geometry of Shadows" and I truly am happy 
to have you on Relaxed Machinery.