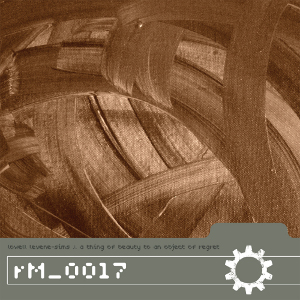 Released:
August 2011
Downloads:
alteraOrbe
Band Camp
Extras:
CD-R Insert (PDF format)
Wallpaper
Release Info
Recorded, mixed and mastered by LLS in the Pink Room – April/May 2011.
Additional Imaging and Mastering courtesy of Bobby Jones – Thank you so much!
All sounds played, programmed, recorded, found and manipulated by LLS.
Many thanks to my Partner in Crime, Janette for putting up with me, and for her honest critiques.
Thanks to jkn @ relaxedMachinery for giving me this opportunity.
Cover Painting: "There are No Wrong Notes" by LLS, 2010.
Graphic Design: Steve Brand
Track List
1. Aerial Momentum [3:53]
2. This is Not a Warning [6:39]
3. Fear Creates Danger, Courage Dispels It [5:19]
4. Transmigration [17:21]
5. Perseverance [3:15]
6. Coil [5:04]
7. So Good to Have Known You [4:08]
8. At Rest Beneath the Sand [10:39]
9. Disengage [5:19]
Reviews
[child-pages child_of ="2528″ meta_key="release" meta_value="rm0017″]
Wallpaper