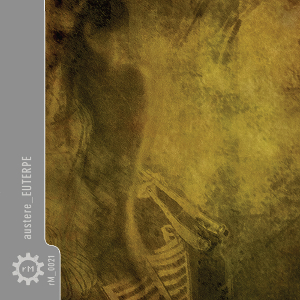 Released:
January 2012
Downloads:
alteraOrbe (coming soon)
Amazon (coming soon)
Band Camp (coming soon)
CD Baby
iTunes (coming soon)
Extras:
CDR Insert (PDF format)
Wallpaper
Release Info
Euterpe — Austere's umpteenth release since 1998, took over well over a year to complete and even more time aging on the shelf. The results? Honed sonic goodness that covers every style or genre we've been known for (which is many) but mostly brand-new ground broken, no paths retraced. A diverse trip of everything that can be called "ambient" this is also the Austere CD that you can give to your Mom on her birthday.
While it "remains distinctly an Austere release" (as put by one reviewer) we consider it if not our very best album, certainly one our finest and a high-water mark. Still very much a mindscape (soundscapes for altered states of mind – although meditation over medication, we advise) it also has, as several have put it: "wide mainstream appeal" — which suits us quite fine as a culmination of years of work.
Entirely unique sound design, massive layers stripped down to the bare-bone essentials, held together by a centuries-old Tibetan meditation "pulse" tone (to slow the heart) — shows that while Austere is not the most prolific "ambient" band by far, it is almost solely because we are always searching for something new and unique to make our own, and ours' alone.
This is our first release on the most wonderful Relaxed Machinery label / music / arts community; we are pleased to be a part of it all, as little as we've been, sadly. Finally and officialy released on 13 Jan 2012, this CD collected dust for almost two years before the fine folk at Relaxed Machinery put forth a lot of effort to make it happen (we are, obviously to us now, not easy to work with!) Hopefully that effort was not wasted. Now available for sale, with lovely artwork by Steve Brand, mastered at The Sound-O-Mat.
We are very blessed and fortunate to have the first Relaxed Machinery release using their new CD cover template / format for 2012! We cannot thank John Koch-Northrup, Geoff Small and Steve Brand enough. Sadly, since no good deed goes unpunished, they have been made "members" of Austere.
Named after our shared Muse Euterpe, that of musick as well as "The Bringer of Delight", we do hope this album brings both magickal sounds and delight as to honor her name. Of course, Muses, being the fickle, flighty birds that they are, will do what they may. In Greek Mythology, Euterpe (pronounced "you • ter • pee" -or- "ju • t • Crpi" ["ju • te • sa • rpi"] in proper Greek; she is the Muse of "rejoicing well" (the female Bacchas) or "that of delight" from Ancient Greek. Derived from ?? (well) + ??????? (terpein, or "to please.")
One of the daughters of Mnemosyne fathered by Zeus, in Classical Times she was named muse of lyric poetry (although that was and is Calliope (pronounced "ka • lie • o • pee", the Muse of epic poetry) Euterpe is always depicted holding a flute, in particular the Greek aulos or "double-flute". The river god Strymon impregnated Euterpe; her son Rhesus led a band of Thracians and was killed by Diomedes at Troy, according to Homer's Iliad.
Track List
1. Polyhymnia [5:57]
2. Roseate [7:02]
3. Wadan [5:46]
4. Sunshone [16:23]
5. Totonality [17:34]
6. Advenire [4:38]
7. Betroven [5:57]
8. deMote [3:43]
Preview
[mp3-jplayer tracks="Roseate (preview)@rm0021/01 – Roseate (preview).mp3, Betroven (preview)@rm0021/02 – Betroven (preview).mp3, Demote (preview)@rm0021/03 – Demote (preview).mp3″]
Reviews
[child-pages child_of ="2528″ meta_key="release" meta_value="rm0021″]
Wall Paper