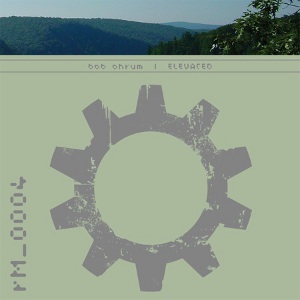 Released:
June 2010
Downloads:
alteraOrbe
Amazon (coming soon)
Band Camp (coming soon)
CD Baby
iTunes (coming soon)
Extras:
Wallpaper
Release Info
Elevated is a journey through heartbreaking loss and the celebration of a spirit set free from a broken body.
"In 2007 I wrote and recorded Elevated as a tribute to my father, a great man and a good friend. I only hope that the songs I have written are a suitable tribute…"
Bob wrote song for you (i'll never forget) on the day his family spread his father's ashes in the valley you see on the cover. The song is literally raw emotion.
Mastered by Robert Vaughn at Sound-O-Mat.
Photography by Kevin Pletcher.
Design by Steve Brand.
Bob Ohrum is… distant highways, crumbling factories, the lonely sound of a 2 A.M. train, and the beauty of the city at night…
In his own words: "I started writing music and playing bass in an assortment of shoegaze bands in the early 90s. As the decade progressed I became more and more drawn to experimental music and analog synthesizers. During that time I recorded my first Ambient music demos on four-track cassette. In 2000 I moved to Cape Cod, Massachusetts where I lived for three years. While living on the Cape I immersed myself in the natural beauty of the ocean. When I moved back to Buffalo in 2003 I had a renewed drive to record. At that time, I found a love for field recording and began to incorporate it into my music. It is my goal to make music that captures and compliments the environment around me, be it city or nature, daytime or night."
Track List
1. song for you (i'll never forget) [5:30]
2. while they slept [9:20]
3. everytime i close my eyes [7:59]
4. elevated [14:13]
5. diwedd [6:12]
6. the wasteland [10:23]
Reviews
Wall Paper