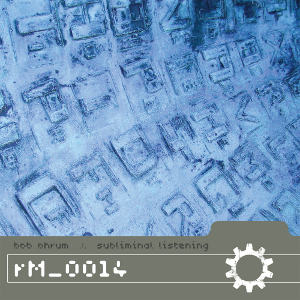 Released:
March 2011
Downloads:
alteraOrbe
Amazon (coming soon)
Band Camp (coming soon)
CD Baby
iTunes (coming soon)
Extras:
CD-R Insert (PDF format)
Wallpaper
Release Info
Subliminal Listening was written and recorded in August 2005. This album was created by capturing various field recordings, and then creating music to accompany them… Aside from reverb, these live field recordings have not been altered in any way. This results in a collection of soundscapes that are very organic in nature…
All the albums I've recorded since Subliminal Listening exist because of this one.
The first song I recorded was Day of the Locust and my whole world seemed to come into focus. The next day I wrote and recorded NightWalk and from then on I knew I was on to something really special!
My goal with Subliminal Listening was to capture my surroundings in a way that would allow them to blend with the listener's surroundings. That way, every time the album is played it could create a unique listening experience. There are no two plays of Subliminal Listening that are exactly the same. Turn it up! Open your windows and let it take you away…
This album is my love of my home in audio form.
Art Design: Steve Brand
Sculpture: John Vasser House
Photography: Kevin Pletcher
Mastering: Andrew Scott Catland
Deepest thanks to: My Mom and Family, Kevin, Andy, John Koch-Northrup and everyone at rM, and – last but not least – Buffalo NY. Without all of you I don't know where I'd be.
Learn about the cover photograph, the sculpture, how it became Bob's cousin's "muse" and how it was later destroyed at Bob's blog.
Track List
1. Day of the Locust [8:04]
2. Overpass Symphony #1 [3:46] *
3. Nightwalk [8:05]
4. Subliminal Listening parts 1 and 2 [15:26]
5. Rain [2:05]
6. Borderlands [8:09]
7. Super Secret Bonus Track with Crickets [9:47]
* Field recording and rock on bridge girders by Andrew Scott Catland
Preview
[mp3-jplayer tracks="Subliminal Listening (Parts 1 and 2)@rM0014.mp3″]
Reviews
[child-pages child_of ="2528″ meta_key="release" meta_value="rm0014″]
Wall Paper