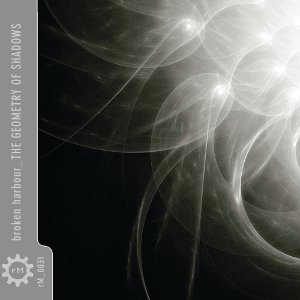 Released:
October 2012
Downloads:
alteraOrbe
Amazon (coming soon)
Band Camp
CD Baby
iTunes (coming soon)
Extras:
CDR Insert (PDF format)
Wallpaper
Release Info
Just over a year since the landmark "Gramophone Transmissions", Broken Harbour returns with a new hour-long ambient journey. "The Geometry of Shadows" marks another stylistic-shift from previous releases and is almost entirely synth-based. Initially inspired by the concept of faster-than-light communications over galactic distances, the original material for the album was recorded under the title of "Ansible" in late 2009. After a 14 month break from recording, the material was reworked, re-recorded, and recycled over 9 months in 2012 until no trace of the original material was actually used. This new version of "Ansible", while retaining the spirit and atmosphere of the original recording, shifted the focus to the interplay of light and darkness, both physically, metaphorically, and spiritually, necessitating a change in title.
The original idea of superluminal communications however, still threads through the aural landscape, as echoes from the past and future over astronomical distances that we simply cannot comprehend.
These ideas: light and shadow, past and future, distance and time, informed the creative process and inspiration of this album.
Track List
1. Superluminal [14:34]
2. The Geometry of Shadows [11:44]
3. Between the Darkness and the Light [12:00]
4. Luminosity [10:59]
5. Ansible [11:06]
Preview
[mp3-jplayer tracks="Superluminal (preview)@rM0031-01.mp3,
The Geometry of Shadows (preview)@rM0031-02.mp3,
Between the Darkness and the Light (preview)@rM0031-03.mp3,
Luminosity (preview)@rM0031-04.mp3,
Ansible (preview)@rM0031-05.mp3″]
Reviews
[child-pages child_of ="2528″ meta_key="release" meta_value="rm0031″]
Credits
"The Geometry of Shadows" is the third reflection from Broken Harbour
Recorded December 2011 – August 2012 at Studio 304, Edmonton, Canada
Thanks: Joss, Hærleif & Robert for listening to multiple revisions of the music, and the encouragement needed to get the ball rolling again. Geoff Small, JKN, & Steve Brand for their invitation & support (and dealing with my neurosis). Erin for always encouraging me. John Shanahan for his continued support and airplay.
The release of this album would have been impossible had it not been for the incredible kindness and generosity of Geoff Small and Peter James. They both release albums on Relaxed Machinery, please support them.
This musical document is best enjoyed in a single listening session.
Mastered by Peter James
Artwork by Kati Astraeir
Design by Steve Brand
Wall Paper