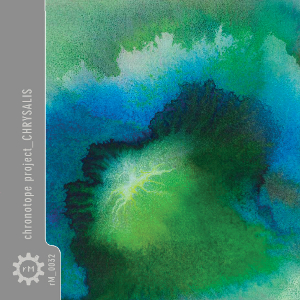 Released:
November 2012
Downloads:
alteraOrbe
Amazon (coming soon)
Band Camp
CD Baby
iTunes (coming soon)
CD-R:
Kunaki
Extras:
CDR Insert (PDF format)
Wallpaper
Release Info
"Chronotope" refers to the unity of space and time, the intimate connection of the relative and the absolute. My intention is to create music that invites the listener to commune with this unified field of being, to paint soundscapes evoking introspection and connection, to awaken the subtle mind and open the heart.
This album is lovingly dedicated to my best friend and partner, Larkin Willis.
Track List
1. Chrysalis [12:58]
2. L'avenue du Ciel [13:53]
3. Trance-Missions [25:34]
4. Reflecting Pool [6:55]
5. Eternity's Sunrise [12:22]
Preview
Reviews
Credits
My deepest appreciation to John, Steve, Geoff, and fellow artists of Relaxed Machinery; I am inspired by your dedication to producing and promoting ambient music of the highest quality.
Wall Paper