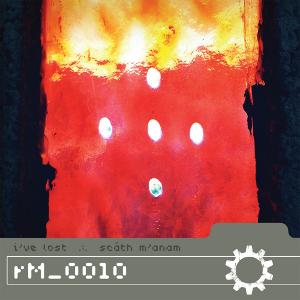 Released:
February 2011
Downloads:
alteraOrbe
Amazon (coming soon)
Band Camp (coming soon)
CD Baby
iTunes (coming soon)
Extras:
CD-R Insert (PDF format)
Wallpaper
Release Info
Scáth M'anam is the first album by I've Lost to be released on Relaxed Machinery. Scáth M'anam is a Gaelic phrase, which can be translated as "Shadow of My Soul". The artist, aka Bobby Jones, chose this title by looking to his Irish roots. He explains the project's motive:
"As a reaction to the unstoppable machine of technological advancements, I composed this album as a means to desperately hold on to, and express, my humanity. The works are the result of an emotional, and subsequently human, response to the world. They are fragile, intimate, personal and genuine."
In keeping with the artist's historical role, Bobby offers the listener an intimate glimpse into his humanity – bringing to light those elements which may be lost, or considered unimportant in the wake of social, economic and political changes resulting from technological "progress".
Cover design: Steve Brand
Original art: TJ Norris
Track List
1. i wish i could fly – sections 1-8 [71:23]
2. ghosts on the wind [7:44]
Reviews
[child-pages child_of ="2528″ meta_key="release" meta_value="rm0010″]
Wall Paper