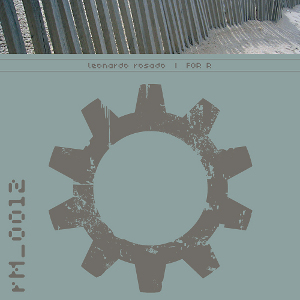 Released:
November 2010
Downloads:
alteraOrbe (coming soon)
Amazon
Band Camp
CD Baby
iTunes
Extras:
Wallpaper
Release Info
The title 'for r' would suggest a work being dedicated to something or someone and on the surface it appears to be a vague and ambiguous bestowment. Leonardo Rosado chooses not to define what or who 'r' may be, however, after spending much time with the three tracks contained within I have come to love the mystery that the title embodies.
Listening to the sounds within is awe inspiring and thus Rosado's patience while constructing these brooding, spacious and fluid pieces is to be praised. A spectrum of emotions flow from the music conjuring childlike imagery with echoing bells, deep unease via augmented drones and bass frequencies, and a wonderful sense of acceptance through the warmth and fragility of the sounds.
Rosado's strength is his undeniable sense of depth, combining organic sounds of water, experimental percussion, shuffling and friction with processed and controlled drones all culminating in a wonderfully balanced form. The synthesis of nature and technology present here is what makes these recordings so rewarding time and time again.
Regardless of the ambiguity the title presents, Leonardo Rosado makes a poignant dedication, a dedication that not only celebrates the warmth in life and the beauty we are given, but also the darkness, the unpredictability and the ugly facets of existence.
(Text by Alex Stretton)
This release is dedicated to life, the sun, the rain, noise, passion, all instants that are imprinted in my memory and Rita
I would like to thank John for supporting and believing in my work and everyone that suggested improvements on this album.
Mastered by madSavVy productions
All tracks composed and played by Leonardo Rosado
Track List
1. how the rain fell that day [5:34]
2. smiling or why i fell in love [17:28]
3. the sun still rises everyday [14:04]
Duration: 37:05
Reviews
[child-pages child_of ="2528″ meta_key="release" meta_value="rm0012″]
Wall Paper