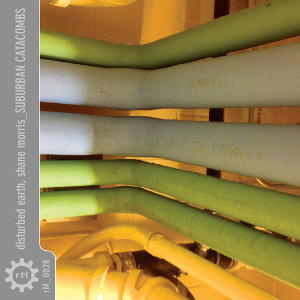 Released:
July 2012
Downloads:
alteraOrbe
Band Camp
Extras:
CDR Insert (PDF format)
Wallpaper
Release Info
"Suburban Catacombs" is about what goes on under suburbia, the day to day…literally, the pipes, storm water drainage, electric cable, communication, internet.
When Shane sent me his live set, it was in four parts.

I edited a few things, but for the most part it's intact.

Shane's reverb was already there, so I had to match/feel what I could do to compliment what I was listening to.

So I played live nylon string guitar through my tape delay thingy and some percussion stuff as well, then added pedal harmonium and electric guitar as overdubs, with the same said tape delay system I use.

I thank Shane for our phone calls and laughter.

Producing the unknown as I love to do, results in an understanding,this collaboration with Shane is one of them.

What goes on under the everyday of suburbia?

Dean (Disturbed Earth)  – July 2012
Dean and I had been working on a collaboration in early 2011 for his "Sister Cities" project and had talked about doing a full length release together at some point.

I played a live streaming set in May 2011 and upon listening to later on, immediately made me think of Dean. This set featured a heavy reverb that I tailored to achieve some of the cavernous percussion sounds, dense drones, and thick harmonies. For the set, I used generative Reactor patches, Absynth, and field recordings along with a small percussion battery consisting of an udu drum, woodblocks, bottle caps, Roland spd-20 electronic percussion, and the base of a microphone stand for a bass drum. Looping done with Line6 DL-5 and Akai Headrush. Outboard gear was Alesis Midiverb and Soundcraft mixer.

The set was a minimalist approach that lent itself easily to collaboration later. I sent the live set to Dean and he liked it and we went from there.

Shane Morris – July 2012
Track List
1. suburban catacombs [57:07]
Preview
[mp3-jplayer tracks="Suburban Catacombs (preview)@rM0028-01.mp3″]
Credits
Shane Morris – Synths, Electronic and Acoustic Percussion, Field Recordings and effects.
Disturbed Earth – Production, Construction, Reel to Reel tape delay, Electric and Nylon String Guitars, Pedal Harmonium, Percussion, Field Recordings
Shane Morris would like to thank Geoff Small, John Koch-Northrup, Steve Brand, and Joel Sutton at Relaxed Machinery, and Howard Moscovitz and Jan Punter at electro-music.com. Special thanks to Dean Richards and Teresa Kohut-Morris
My heartfelt thanks to John for his rM label…to Steve Brand for his wildly colorful,last minute cover and to Geoff and Joel for pulling all this together again. I have no idea the work that is put into these rM releases…I do know I have known and worked with these guys for some years and it is truly an honor that they have released "Suburban Catacombs". Also my deepest thanks to my sister-in-law who loaned me her laptop during the recording of this album and especially to Duke Trench-Thiedman for his dedication in restoring my hard drive…and last but not least, Shane Morris for our times…love ya'll!!! – Dean
Wall Paper