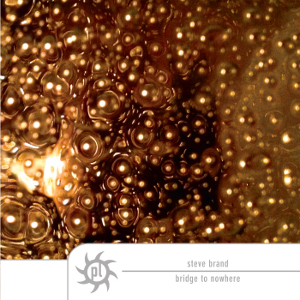 Released:
February 2013
Downloads:
alteraOrbe
Band Camp
CD Baby
iTunes
Extras:
CDR Insert (PDF format)
Wallpaper
Release Info
From the original 2008 release notes:
Steve Brand has just recently started releasing music under his own name, after more than 20 releases in the experimental realm under the name "Augur." Now Brand has a number of recordings scheduled for release on Hypnos, and also on the AtmoWorks label, and the first of these is Bridge to Nowhere.
Brand's work has always had a ritualistic element, and sound sources include: medicine drum, udu, rattles, various flutes, bells, conch shell, thumb piano, cora, Indian fiddle, found, natural and handmade objects, voice, field recordings and keyboards. Bridge to Nowhere is a spacious, slow-breathing exploration of a meditative state, and nowhere in Brand's work is the ritualistic element more present than in this case.
Ambient music in general is often considered to be "spacy" or conducive to altered states of consciousness in general, but this music specifically seems exploratory, meditative, and even a bit "druggy" and strange. As fans of this music ourselves, we particularly love it when an artist seems genuinely to have tapped into a reality outside our own — to have slowed down the world or distorted it, or viewed things through a prism or kaleidoscope. The work of Steve Brand functions in this way, and we're pleased to be able to deliver this incredible, no-side-effects sound trip, to Hypnos listeners!
Bridge To Nowhere was remastered and reworked by Brand at The Treehouse 2012-13.
Track List
1. bridge to nowhere 1 [14:43]
2. breathing light [20:40]
3. bridge to nowhere 2 [20:00]
4. through the lense of love [20:01]
Preview
[mp3-jplayer tracks="Bridge to Nowhere (preview)@pl0010.mp3″]