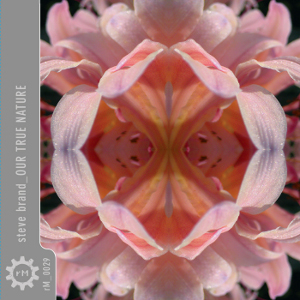 Released:
December 2012
Downloads:
alteraOrbe
Amazon (coming soon)
Band Camp
CD Baby
iTunes 
CDrs
Hand-assembled and signed, direct from artist
($10 U.S, $13 international)
Extras:
CDR Insert (PDF format)
Wallpaper
Release Info
"Our True Nature" consists of two 35 minute drifting, atmospheric ambient soundscapes titled, "True Nature" and "Genuine Nature." Inspired by my mentor, Nadja, and by events in my life that continue to demonstrate to me that our lives are always about the process of unfolding, gradually revealing our true nature. O.T.N., was originally conceived as a companion piece to the 2012 rerelease, "Sunprints," and is constructed primarily with keyboards, bells, flutes, zither, whistles, rattles, rainstick, field recordings and voice.
My initial aim was to create aural representations of natural processes—growth, decay/transmutation, photosynthesis, etc.—even the voices and awarenesses within nature, by melding together natural and acoustic sounds, with more electronic sounds. For me, one of the most fundamental and immediate ways we can connect with our essential selves, our core being, is through our connection with nature, it's processes and metaphors. Basically, I wanted to create a garden of sound, where new possibilities, new ideas, new ways of being could come into fruition.
On every front, we're assailed with perspectives of fear about these times, about the meaning of the year 2012, the environment, our safety, our sovereignty as beings, etc. For me, this salesmanship of fear and scarcity is simply an attempt to distract us from the real events and facts—that we are powerful, sovereign creative beings, who are in the process of realizing this fact. So, I created soundtrack for hope, growth and expanded ways of being, and chose the release date of the solstice, because it is the literal turning point, out of darkness and into light.
Track List
1. True Nature [35:00]
2. Genuine Nature [35:00]
Preview
[mp3-jplayer tracks="Our True Nature (excerpts)@rM0029-01.mp3″]
Wall Paper