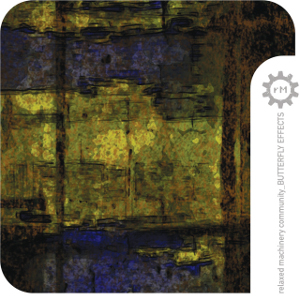 Released:
May 2013
Downloads:
alteraOrbe (coming soon)
Band Camp
Extras:
CDR Insert (PDF format)
Wallpaper
Release Info
Early in 2011, electronic music veteran James Johnson approached the Relaxed Machinery community with an exciting project idea: an album comprising remixes of material from several of his albums.
The response was immediate: 30 artists from around the world – all members of the Relaxed Machinery Ning Online Community – expressed an interest in taking part. James provided them with 25 clips culled from eight albums, which included synths, piano, voices and generative tracks. Submitted pieces often included source material from more than one album.
James selected nine pieces for this collection, including work by Disturbed Earth, Altus, Chris Russell and more.
These are all "purist" remixes, using only source materials provided by James.
In keeping with the project's remix/recycle ethos, its title is extrapolated from one of James' album titles, and the artwork (by Scott M2) is remixed from James' photography.
Track List
1. Mandala by Northcape [5:30]
2. Soaring Steady by Altus [7:37]
3. Afterglow by Somnarium [4:24]
4. Amphorae by Disturbed Earth [10:58]
5. Well of Hope by Aairria [9:10]
6. Bad Echoes by Andrew Quitter [13:19]
7. Two Fractured Mirrors by Eyes Cast Down [10:00]
8. Twilight Woods by Chris Russell [7:37]
9. dreamSTATE Drift by Scott M2 [5:56]
Preview
[mp3-jplayer tracks="Mandala by Northcape (preview)@rM0034-01.mp3,
Soaring Steady by Altus (preview)@rM0034-02.mp3,
Afterglow by Somnarium (preview)@rM0034-03.mp3,
Amphorae by Disturbed Earth (preview)@rM0034-04.mp3,
Well of Hope by Aairria (preview)@rM0034-05.mp3,
Bad Echoes by Andrew Quitter (preview)@rM0034-06.mp3,
Two Fractured Mirrors by Eyes Cast Down (preview)@rM0034-07.mp3,
Twilight Woods by Chris Russell (preview)@rM0034-08.mp3,
dreamSTATE Drift by Scott M2 (preview)@rM0034-09.mp3″]
Musicians' Notes
Northcape: Mandala Remix
I always want to make remixes that have something of Northcape's sound in them as well as the original, so I tried to find a remix pack with a number of different samples available to give some ammunition! A remix where only original samples could be used was always going to be a challenge… It's also always important for inspiration for me to remix an original that I like – Mandala clearly fit both criteria. I knew I'd need a bass line, lead sounds and probably some sort of beat, so before I started I spent some time isolating parts of the individual tracks, resampling and editing them to create the kit and the baseline together with some other sounds, in particular the "piano-ish" lead. I was lucky to isolate the "piano" sound as the original WAVs didn't have many parts with a clean single note to resample. I found that working on the track itself after this was relatively straightforward, the quality of the sounds and underlying pads was such that the bass line, rhythm and the added melody came very easily. The finishing touch was finding the string sample in James' "hybrid strings" sample pack, it just fits the track remarkably well and provides the dramatic build that I think the remix needed.
Altus: Soaring Steady
I've never attempted to build music in this fashion (by mixing various stems together), so to create something cohesive and pleasing to the ear from pre-existing stems was an interesting experience. At first I told myself I wouldn't use any of the piano stems as it was likely they'd be used by many other artists in this compilation. In the end, I broke downand used them as they were too beautiful not to include.
The overall structure of the track is technically simple, and admittedly I didn't experiment as much as I had planned, but in the end I'm pleased how it turned out. Attempting to do something more experimental likely would've resulted inunpleasant noise in comparison. I hope you enjoyed the outcome, James. Thank you for the opportunity.
Somnarium: Afterglow
Elements of Twilight Strings and Mellow Bounce were manipulated using Steinberg Wavelab, including reversing/stretching the original audio. These modified tracks were then imported into Cakewalk Sonar v3 where they were chopped into varying segment lengths which were re-ordered and processed with delays and reverbs. Panning and EQ was applied to ensure that the various elements did not clash and that the track gelled as a new whole. A drone created from the Lost at Dunn's Lake textural background originally formed the basis for this track, however, this was ultimately removed to allow the piece to "breathe" more.
Disturbed Earth: Amphorae
When producing Amphorae, I left one sample unchanged… I processed the other five through the "Disturbed Earth" sound, a technique made up of using reel to reel analog tape loops and stuff. This system/method I use can be fraught with the unpredictable/an unknown outcome and a highly charged sense of what can be. With the "Butterfly Effect", I am glad to be able to fill some empty clay containers and bring them to the surface as Amphorae… Thank you James Johnson.
Aairria: Well of Hope
There has always been one James Johnson album which meant a lot to me. For some reason Lost at Dunn's Lake turned out to bear a great deal of significance and so, captivated and transported completely, I listened to it for hours and hours. From the depths of these days spent on wondering and wandering, and from the singularity of the samples of that musical journey supplied for use in Butterfly Effects, comes my Well of Hope.
Andrew Quitter: Bad Echoes
Track title is an anagram of the track stems used. The chosen stems were edited into short loops, transferred to a Tascam field recorder and then processed through analog electronics and tape delay to six stereo tracks in Reaper. Recorded, Mixed and Mastered by Andrew Quitter at Slithis Studios – May, 2011
eyes cast down: Two Fractured Mirrors
I was most attracted to James' piano parts, and used three of them (two from Nightfall and one from Minimum 2), chopped up and pitch-shifted, along with two synth parts (from the same albums) through glassy phasers. I sent it all through lots of feedback chorus and a long feedback tape delay patch. (Thanks, Dean!) I was looking for the infinity effect of two mirrors facing each other. Perhaps uniquely among the 30 musicians undertaking this project, I had never heard James' music, and deliberately avoided doing so until after my remixes were done, to maintain a tabula rasa state of innocence / ignorance, which James wholeheartedly endorsed.
Chris Russell: Twilight Woods
Twilight Woods is a track I created using sounds from Minimum 2 and Environment 1. I treated them by altering the pitch and stretching the time to morph into a midnight nature zone that was very therapeutic to create. I did not use any effects on the recorded sounds, I wanted to keep them as is.
Scott M2: dreamSTATE Drift
The heart of this remix/reconstruction was created by importing one of James' stems (Melo Bounce 2) into an iPad app called SynthTronica to be analyzed as a formant, and then playing the synth while further manipulating its dynamic filters. The app has the ability to record performances as .wav files. Two SynthTronica recordings performed in a Toronto subway car were imported into ACID and contoured with the original stem and three others – all pitched down to slow them without adding unwanted artifacts to the flow of this gently evolving drift piece.
Credits
Artwork: Scott M2, remixing original photography by James Johnson
Design and Layout: Steve Brand
Track sequence and file management: Geoff Small
Info Manager and project title: eyes cast down
Artwork Notes
"The cover image is a blend of two of James' black and white photos from his Flickr page, each pre-treated with a variety of iPad photo-manipulation apps then composited in the Brushes iPad app. Most of the work was performed on the Toronto transit system." –  by Scott M2

Wall Paper