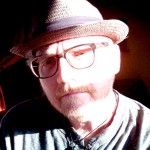 ABOUT: A lifelong artist and musician, Steve Brand originally recorded and released in the experimental realm under the name "Augur," with more than 20 limited edition releases on various independent labels. In 2003, Steve began creating in the "ambient" genre under his own name. He describes this change in moniker and musical expression as "Part of the process of moving out of my head and more into my heart." Since then, Brand has issued a number of self-released disks, as well as a number of solo and collaborative releases on the esteemed U.S. labels, Hypnos and AtmoWorks, the Spanish label, alteraOrbe, and the Italian label, Afe. Instruments used in Brand's music include keyboards, field recordings, various flutes, whistles, zither, ocarina, voice, medicine drum, shakers and rattles, various bells, kalimba, prayer bowls, kora, gongs.
Along with John Koch-Northrup and Geoff Small, Brand helps run the relaxedMACHINERY label as Art Director/Designer and Ethustiastic Boat Floater.
ACTIVITIES:
- Selected tracks have been featured on Stephen Hill's nationally syndicated radio show "Hearts of Space" on 9 occasions since 2007 (October 2007 "Darkwater" edition, August 2008 "Reading the Bones" edition, July 2010 "Heatwaves" edition, and October 2010 "The Crossing" edition, May 2011 "Timescapes" edition, August 2011 "Desert Solitaire" edition, February 2012 "Supernatural" edition, July 2013 "Heatwaves" edition, January 2014 "Mystic Metals" edition), and continues in rotation on SomaFM's DroneZone, StillStream.com and Reneé Blanche's "Nights Tides" KCUR/NPR.
- July of 2009, Brand's AtmoWorks release, "Because We Were Once Covered In Gold," was honored as the "Featured Album of the Month" on StillStream.com.
- In January of 2010, his Hypnos Secret Sounds release, "Children of Alcyone" was named one of Star's End's "Top 15" for January 2010.
- Steve's 2010 Relaxed Machinery release, "Circular Scriptures" was one of PingThings "Top 10" for 2010.
- "Avatara," released on Hypnos Records in April, 2010, was named as one of Stars End "Top 10" for July and August of 2011, and Galactic Travels "Top 20" for December, 2011.
- "Catalyst," the June 2012 Relaxed Machinery release, was on the WVKR-FM "Secret Music Top 20? for the month of August.
- His Hypnos Secret Sounds releases, "Bridge To Nowhere" and "Children Of Alcyone," were on Dave Butler's "Spectral voyages" (on KRSC Kentucky) "Top 20" for April 2012.
- Interviewed by Michael Foster of Ambient Visions, August 3, 2013.
- Brand's music is frequently ranked #2 and #3 for "Top 30 Artists by Listeners" and "Top 30 Artists by Spin" on the Drone Zone/SomaFM charts on numerous occasion.
- Steve's music can be found on CDBaby, Bandcamp, iTunes, Napster, Amazon, eMusic, etc.
REVIEWS: Steve's music has been described as "ambient," "tribal," "ritualistic," "a direct link to our ancient, and arcane ancestry," "…not mere music, but an almost shamanic attempt at deconstructing our interpretation of reality, by connecting us to an anti-technological, primal psyche," and "Brand has tapped into a sound or feeling that's at the core of all things, a universal essence." Hypnos Records says of Steve, "(he has)…quickly established himself as one of the more interesting and distinctive artists working in ambient music…"
PERSONAL BACKGROUND: In addition to his sound work, Brand is a Reiki Master and visual artist. He is committed to the idea that, "art/music, more than being just an object for sale, is actually a fluid and transformative process that opens us up to new possibilities that create the potential for healing spiritually and physically, and connects us via it's roots in our common ancient past—it's wellspring in the depths of our larger selves. The results of this creative process can be sound maps of/to lost and uncharted realms of Being. Having said all this, I understand perfectly that some are more comfortable with 'who-what-where' biographies from artists. Why. Where is the passion and personal risk in that. I feel that when at it's best, creativity doesn't take a dispassionate, neutral or risk-free stance. Instead, I choose to make the very personal and active effort to reach into the gray areas of feeling, intuition, passion and the unknown—in doing so, I make music that is intended to facilitate expansion and healing."
Relaxed Machinery Releases
Interviews
Music can be purchased here:
Bandcamp
CDBaby
CDrs
Hand-assembled and signed, direct from artist
($13 U.S, $16 International)
Profile with sound samples on rM.ning community page.
DISCOGRAPHY:
2014
• "Because We Were Once Covered In Gold" - Re-release, Re-master on PIONEER LIGHT MUSIC – February
• "Meltstream" (w/ Roy Mattson) on RELAXED MACHINERY – June
• "Children Of Alcyone" Re-release, Re-master on PIONEER LIGHT MUSIC – September
• "Sanctuary" double album on RELAXED MACHINERY – October
2013
• "Over-soul" on PIONEER LIGHT (in association with rM) – 11.29.13
• "She Covers The Sky" Re-release, Re-master on PIONEER LIGHT – 9.20.13
• "Trust And Remember" e.p. on ALTERA ORBE – 6.29.13
• "The Great Hoop" on RELAXED MACHINERY – 6.14.13
• "Bridge To Nowhere" Re-release, Re-master on PIONEER LIGHT – 2.15.13
• "The Track of the Full Moon on Water" – 2.1.13 [Bandcamp Only]
- Interview with Michael Foster, Ambient Visions

2012
• "Our True Nature" on RELAXED MACHINERY – 12.21.12
• "Sunprints" Re-release, Re-master (with additional track) on PIONEER LIGHT – 9.14.12
• "Catalyst" on RELAXED MACHINERY – 6.15.12
• "Spiritual Science" (w/ Ishq) Re-release, Re-master on PIONEER LIGHT – 3.6.12
• "Codex" (compilation, released on Bandcamp ONLY) on PIONEER LIGHT – 3.6.12
- Music aired on Hearts of Space in the February edition, "Supernatural"
- Track contributed, "Host" to the "All | Is | Calm" 2012 free download compilation on Free Floating Music label
2011
• "Subtle Movements Inside" on RELAXED MACHINERY – 11.11.11
• "Cahokia" (re-release) on PIONEER LIGHT MUSIC – 10.28.11
• "
Upwelling
" (epiphanies, experiments, singular moments, remixes and re-discoveries) on PIONEER LIGHT MUSIC – 9.2.11
• "
What Is Memory?
" (w/Disturbed Earth) on RELAXED MACHINERY – 7.11.111
• "
SoulSpiral
" (re-master, re-structure, re-release) on 
PIONEER LIGHT MUSIC
 – 5-13-11
• "
Avatara
" on HYPNOS – 4.22.11
- Music aired on Hearts of Space in the May edition, "Timescapes," and August edition, "Desert Solitaire."
- Contributed the track, "
Into The Current
" to the "
Conception
" free download compilation on Free Floating Music label
2010
• "Coniunctio" ("Pale Blue Orb/The Beginning Of Days") on relaxedMACHINERY –  8.3.10
• "Sunprints" on ATMOWORKS – 4.30.10 (Deleted from AtmoWorks Catalog, Re-released September 2012 on Pioneer Light Music)
• "Circular Scriptures" on relaxedMACHINERY – 1.11.10
- Music aired on Hearts of Space in the July Edition, "Heatwaves," and October edition, "The Crossing"
2009
• "The First Day Unnamed" (w/ Disturbed Earth) on ATMOWORKS – 10.30.09 (Deleted from AtmoWorks Catalog-Now available now on BandCamp ONLY)
• "She Covers The Sky" (w/ contributions from Holon) on ATMOWORKS – 9.25.09 (Deleted from AtmoWorks Catalog)
• "Spiritual Science/The Voice From Home" (double album w/ Ishq) on ATMOWORKS – 7.17.09 (Deleted from AtmoWorks Catalog)
• "Children of Alcyone" on HYPNOS SECRET SOUNDS
• "The Rest of Time" (w/ Disturbed Earth)  on ATMOWORKS (Deleted from AtmoWorks Catalog-Now available now on BandCamp ONLY)
• "Cahokia" re-released/re-mastered on ATMOWORKS (Deleted from AtmoWorks Catalog)
• "Busy with Dreams" (w/ Disturbed Earth) on ATMOWORKS (Deleted from AtmoWorks Catalog-Now available now on BandCamp ONLY)
- "Because We Were Once Covered In Gold" honored as StillStream.com's "Featured Album of the Month" for August
- Featured artist on StillStream.com's Rabbit Hole Radio, Thursday, June 4, 2009

2008
• "LightTools" on ATMOWORKS (Deleted from AtmoWorks Catalog-Now available now on BandCamp ONLY)
• "Epicenter of a New Dawn" Free Download e.p.
• "Into the Current" Free Download Single
• "Because We Were Once Covered In Gold" on ATMOWORKS (Deleted from AtmoWorks Catalog)
• "Broken Gold" (w/ Disturbed Earth) on ATMOWORKS (Deleted from AtmoWorks Catalog-Now available now on BandCamp ONLY)
• "SoulSpiral" on ATMOWORKS (Deleted from AtmoWorks Catalog, Re-released May 2011 on Relaxed Machinery)
• "Codex" (compilation) Self-released CD-R, only at Hypnos Store  (Reissued March 2012 on Bandcamp ONLY)
• "Bridge To Nowhere" on HYPNOS SECRET SOUNDS
• "Looking Into The Other" self-released on CDBaby.com, iTunes
- Music aired on Hearts of Space in the August, "Reading the Bones" edition
- Music in rotation on SomaFM's DroneZone
2007
• "Twilightmind" self-released on CDBaby.com, iTunes. etc.
• "Cahokia" self-released on CDBaby.com, iTunes. etc.
• "Awakensong" self-released on CDBaby.com, iTunes, etc. (re-release of formerly ltd. edition)
• "Looking Into The Other" on Afe Records
- 2 songs aired on Hearts of Space in late October, "Darkwater" edition
- Interview with Fabrizio Grau of AudioDrome.com
2006
• "Looking Into The Other" Track contributed to Afe Records' on-line compilation
• "Awakensong" on Afe Records
- Interview with TJ Norris for Igloo On-line Magazine