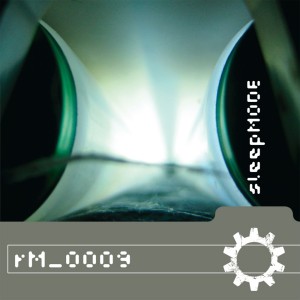 Released:
March 2011
Downloads:
alteraOrbe
Amazon
Band Camp
CD Baby
iTunes
Extras:
Wallpaper
Release Info
Relaxed Machinery presents: sleepMODE, a snapshot of the rapidly-growing label celebrating its first anniversary. Thirteen global artists bring their own unique perspectives and life experiences to sleepMODE. With the album at just over two hours, each artist had free rein to use as much track length as needed to evoke the feelings and emotions they wished to express for this project. The music ranges from ambient soundscapes, electro-acoustic, to modern minimalism; using synths, guitar, bass, field recordings, and processing.
Photography and Design: Steve Brand
Final Mastering: Bobby Jones (I've Lost)
This work is licensed under a Creative Commons Attribution-NonCommercial-NoDerivs 3.0 Unported License.
Track List
1. Max Corbacho – Slow Rust [9:22]
2. Steve Brand – Forgotten Feast [13:35]
3. åpne sinn – REMcycle [7:30]
4. Beta Cloud – What Dreams May Come [12:58]
5. Benjamin Dauer – Neon Shroud [6:42]
6. Bob Ohrum – Deepest Blue [13:59]
7. I've Lost – Going Under [12:28]
8. Leonardo Rosado – Dream States Fourtet [14:45]
9. Beed and Fascia – Lila's Dance [7:16]
10. ISHQ – AN [10:07]
11. Nettless – Parallel Truths [7:06]
12. Chris Russell – Mechanical Slumber [10:32]
13. John Koch-Northrup – A Dream of Awakening [3:09]
Preview
[mp3-jplayer tracks="A Dream of Awakening@rM0009.mp3″]
rM Artist Pages:
Reviews
[child-pages child_of ="2528″ meta_key="release" meta_value="rm0009″]
Wall Paper